3303 S 12th Ave | Tucson, Az 85713 | (520) 203-7569
Tues-Sat 8am-8pm | Sun 8am-2pm | Closed Monday
---
Café Santa Rosa

Catering Menu
---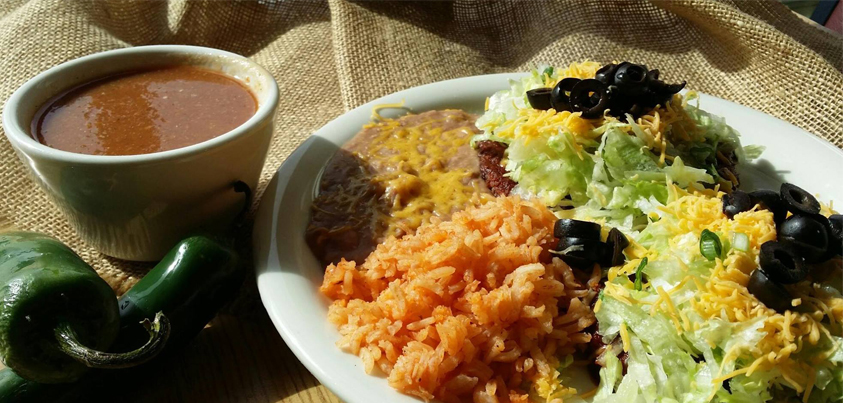 Catering payments must be made 2 days prior to event.

All catering prices apply to 25 people or more.
Delivery is free for 50 people or more within city limits.
Out of city limits there will be a $50.00 charge.

In city limits fewer than 50 people there will be a $25.00 charge.
Warmers are available if needed (Usually for 50 or more people).

Credit card hold deposit required.

Warmers must be returned by next business day. If not returned, there will be a $75.00 charge.
Serving (all serving is buffet style) will be included for 100 people or more if needed.
If fewer than 100 people, serving fee is $50.00 per hour.

Combination Plates
Includes plates, forks, and napkins.
All combination plates include beans and your choice of rice, potato salad, or squash.
(There is an additional $.25 cent charge per plate for squash)
Red Chile Plate – Includes your choice of tortilla (chemait), popover, or yeast bread - $5.95 per person
Birria Plate - Includes tortilla (chemait) - $4.75 per person
Popovers
(Indian Fry Bread)
Red Chile - $4.50 per person
Red Chile & Beans - $5.25 per person
Indian Taco (ground beef, beans, lettuce, cheese, and tomato) - $5.75 per person
Honey - $2.50 per person
Honey and powder sugar - $3.00 per person
Chocolate and powder sugar - $3.00 per person
Beverages
Regular Tea - $.95 per person
Cinnamon Tea - $1.25 per person
Side Dishes
Pint (Feeds 1-2 people)
Quart (Feeds 4-5 people)
Gallon (Feeds 20-25 people)
Red Chile - Pint $7.00/ Quart $15.00/ Gallon $50.00
Beans and Rice - Pint $4.00/ Quart $7.00/ Gallon $24.00
Squash - Pint $5.50/ Quart $9.00/ Gallon $32.00
Potato Salad - Pint $5.00/ Quart $8.00/ Gallon $30.00